Ahesh at the Battle of the Wither Woods
As the rain poured outside, young Aarash ran to his father, Ahesh, and asked, "How did you become the Emir of our town?"
Ahesh leaned back, looking into the fire for a moment and then gestured to his son and said, "Hop up here. It all started when Eastgate was under siege many years ago…"
…Petera had been held up in Eastgate by his own brother, Dugal. As Eastgate was far enough away from Batuhan, this fighting rarely involved our village. We were too small to be of any importance. But we were drug into the conflict when a battle was to be fought at Trigan's Mill, close to our farm.
Dugal had command over these lands at the time and sent messengers to every village and town recruiting fighters. Your grandfather has already passed and I was in charge of our farm. The messenger made it clear that choosing not to fight was not in my best interest. I was given a week to report to camp. I found an old, but sturdy shield, what mail could be found as well as my helmet and sword, packed up, said good by to my mother and left.
I arrived at camp with several of our neighbors and found a busy sight. Many mercenaries and lords were already there. People from distant lands looking for excitement, payment or who were loyal to Dugal and his cause. That night, my neighbor, Bagher, said to me, "Given the experience and equipment of these mercenaries, I feel we shall come out as ground meat when the battle begins."
I nodded silently, feeling the same way and then said, "Stick with me, Bagher," as I clasped his shoulder, "and we'll watch each others' backs."
The next morning was warm with a clear blue sky. As we lined up for battle, a gentle breeze blew across our faces. It would have been quite pleasant if it were not for the task ahead. I looked at Bagher, lined up next to me, as we mentally prepared for what was to come.
Bagher, the rest of our neighbors and I were positioned as part of the left flank near the river. Our company was lead by Jakon "the Invincible" who brought experienced soldiers: veterans of the Battle of Khordeem, and mercenaries calling themselves the Black Lions. Mark - a yeti - and the Blue guard were also near by. Darrin Longshot and his archers took a position on a small rock formation near the river.
While waiting that morning for the battle to start, minutes felt like hours. No one spoke as time drug on. When it was clear the battle would begin soon, Jakon stepped out in front and spoke, "We have gathered here to fight for a Historica free from tyranny. Failure today is not an option. Keep formation and do not allow the enemy to break ranks. For Dugal and Historica!"
While his speech was inspiring, I still had my doubts. I figured we were only there to absorb first onslaught in the attack. But as the battle began, Jakon and his Black Lions lead the way. They marched toward the enemy with poise and purpose. We brought up the rear and I prepared myself for my first battle.
The enemy's line melted before Jakon and his warriors aided by the archer support from above. I got in a few blows and managed to miss the few that were directed my way. Bagher and I stayed close as we fought forward. Being in the back gave me time to learn to battle on-my-feet, so to speak. Jakon continued to fight at the front and advance our position, proving his "Immortal" nickname. The Yeti, Mark, with his magic ice blade was also making headway as I continued to hold my own, defending myself and my comrades from any enemy that got through the mercenaries in front of me.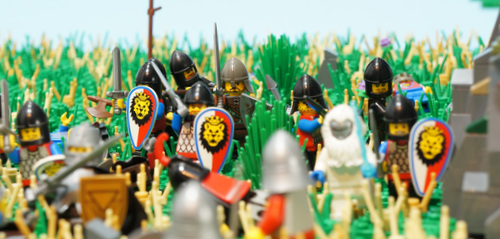 The fighting around us began to settle - we were winning! But just as I thought the battle was over, a great noise came from behind us. Petera had opened a magical portal and out streamed the Blackguard of Eastgate, a company of Snake Dwarves and a monstrous lizard: a luck dragon.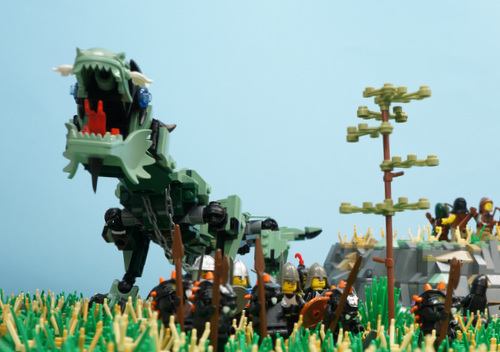 As I turned around, I learned what battle is really like. Without the experienced mercenaries between myself and the enemy, I found myself truly fighting for my life. Petera's troops were on top of us in an instant. A snake drawf's spear found Bagher and he collapsed at my side as I saw my other neighbors and friend cut down. I struggled to shield myself from blow after blow after blow.
I finally received some reprieve when a large explosion went off several yards in front of me killing many of the Snake Dwarves and wounding some of the Blackguard. The luck dragon reared itself and then was upon me.
The first swipe of its claw grazed my chainmail, slicing through it and dragging me to the ground, but leaving me unhurt. I swung my sword at its head, which recoiled and then came back to bite with is enormous mouth and daggerlike fangs.
Just as my life was to be over, the beast's head was pulled away by the chain around its neck. Jakon had seized control of the beast and pulled it away. The dragon obeyed its new master as I saw him lead it away as the battle had finally come to an end…
"… and that was Battle of the Wither Woods, at least for my part. After the battle, I returned home with Bagher's body and a modest payment for my service. I was gifted the land of my fallen neighbors and tasked with taking care of their families."
By this point the rain had settled down and little Aarash was anxious to play outside. "Managing a village that has suffered heavy loses in battle," Ahesh said, "is much less exciting than fighting dragons, but much more important. I'll tell you more of the story another day."
---
I created this MOC for both LowLUG's MMMM contest and the GOH Anniversary, 1st count down challenge.
It revisits the Battle of the Wither Woods from the perspective of a local farmer, Ahesh and explains the events that push he and later his son, Aaresh, to prominence in the town of Batuhan.