LEGO Whitening
Origional: 2014-10-26 Updated: 2019-11-06
My biggest complaint about LEGOs in terms of quality was that older pieces, especially white ones, would yellow over time, especially in direct sunlight.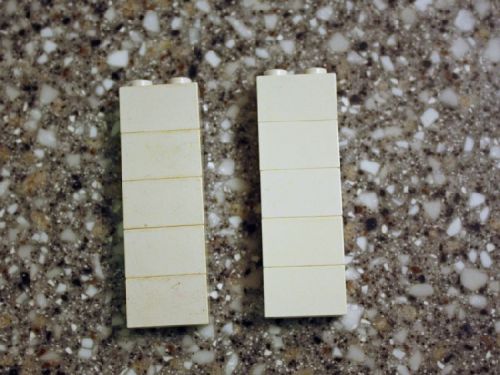 The yellowing is due to a chemical process, which can be reversed using hydrogen peroxide (H2O2)and Oxy-clean.
This page documents my results of using the steps outlined from the following pages:
Quick Steps
Put pieces into a plastic/glass tub
Lightly dust pieces with Oxy-clean (optional)
Submerge pieces in hydrogen peroxide (3% strength)
Place in sunlight (optional)
Once a day, add peroxide, stir if needed
Rinse on the 5th day, or when white enough
2019 Update
After doing this process a few more times with a few variations, I updated the quick steps above and made a few notes in the rest of the article.
Lately, I've only been using hydrogen peroxide and letting the bricks sit in the sun while soaking - that works best.
Setup
I have just started with my 1xN white bricks. I am not cramped for time, so I am using 3% hydrogen peroxide. I used just under three quarts of hydrogen peroxide, just enough to cover the bricks in a clear, plastic Sterilite container. I 'dusted' the tops of the pieces with some Oxy-clean.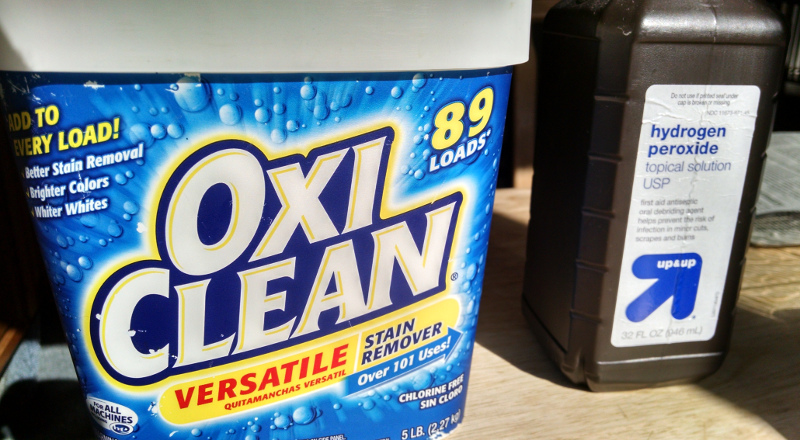 As I am no rushed, the container is sitting in my basement, where it will get a many hours of indirect sun light a day (and be within arms reach of a two-year-old).
I did not take any 'before' pictures, but many of my white LEGO were bought in the 90s. Almost all of those were noticeably yellowed when compared to new pieces.
Two images of the LEGO soaking are below on their last day in the solution.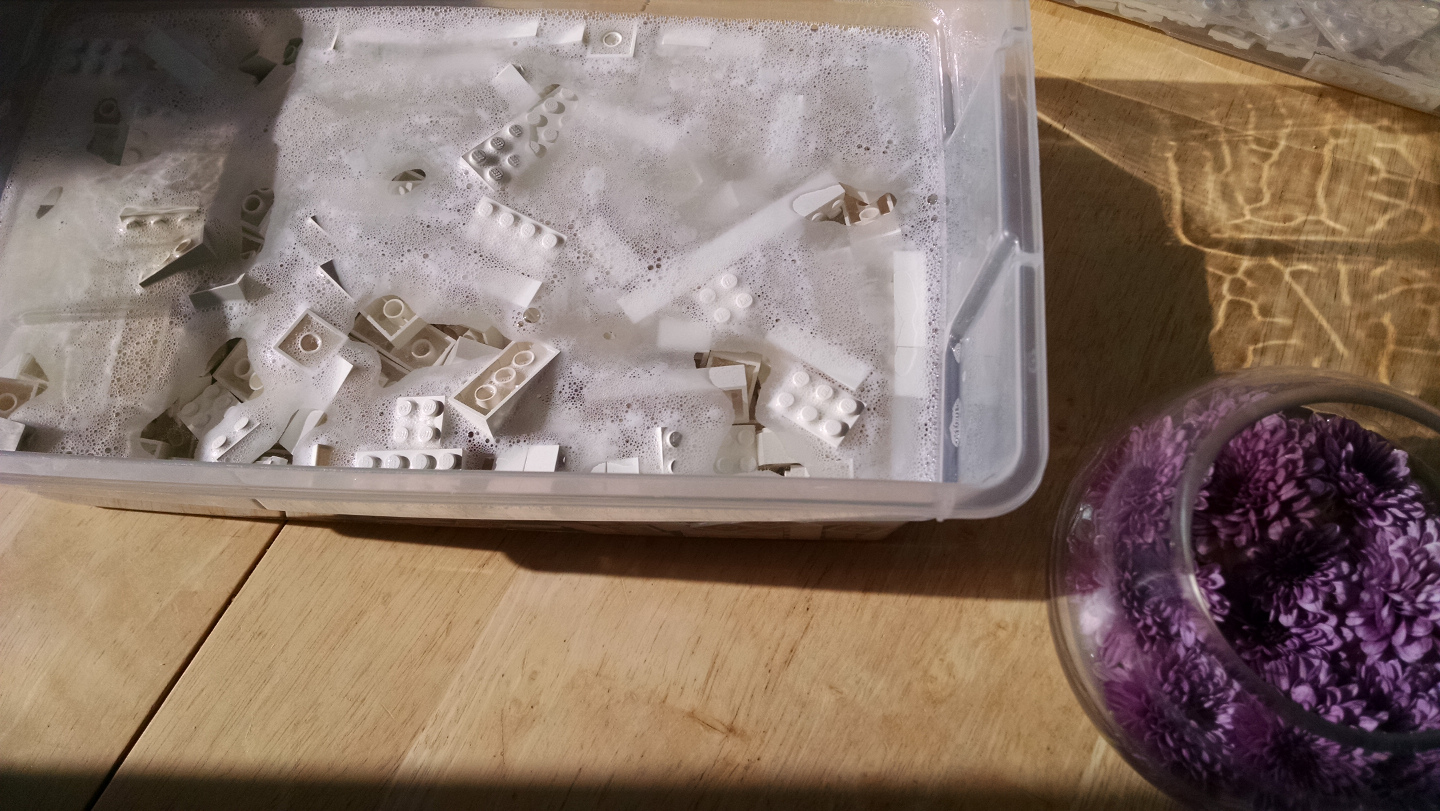 If you have a model that is already built and yellowed, you can make a paste solution to apply. Please see the Retr0bright Project for details.
Nightly Activities
Each night/morning I stirred the mixture. I also had to add some hydrogen peroxide as it does evaporate fairly quickly. I would recommend getting enough so you can be generous when you submerge your pieces.
I got a bit worried after three days or so when I did not see a huge improvement. But after four and five days, most of the pieces were much whiter. I think if my pieces were spread out more and had better sun exposure, it would not have taken this long, but as I said, I had time to wait.
Results
After about five days, I rinsed off the first batch of pieces. Most of the pieces are much whiter. Some parts only got three days and had a few yellowed pieces, but overall I am very pleased.
The tubs with single layer of bricks seemed to have a much higher percent of white parts. Same with those that soaked for five days. In the image below the top brick was the yellowist one I could quickly find; most pieces were as good as the bottom ones.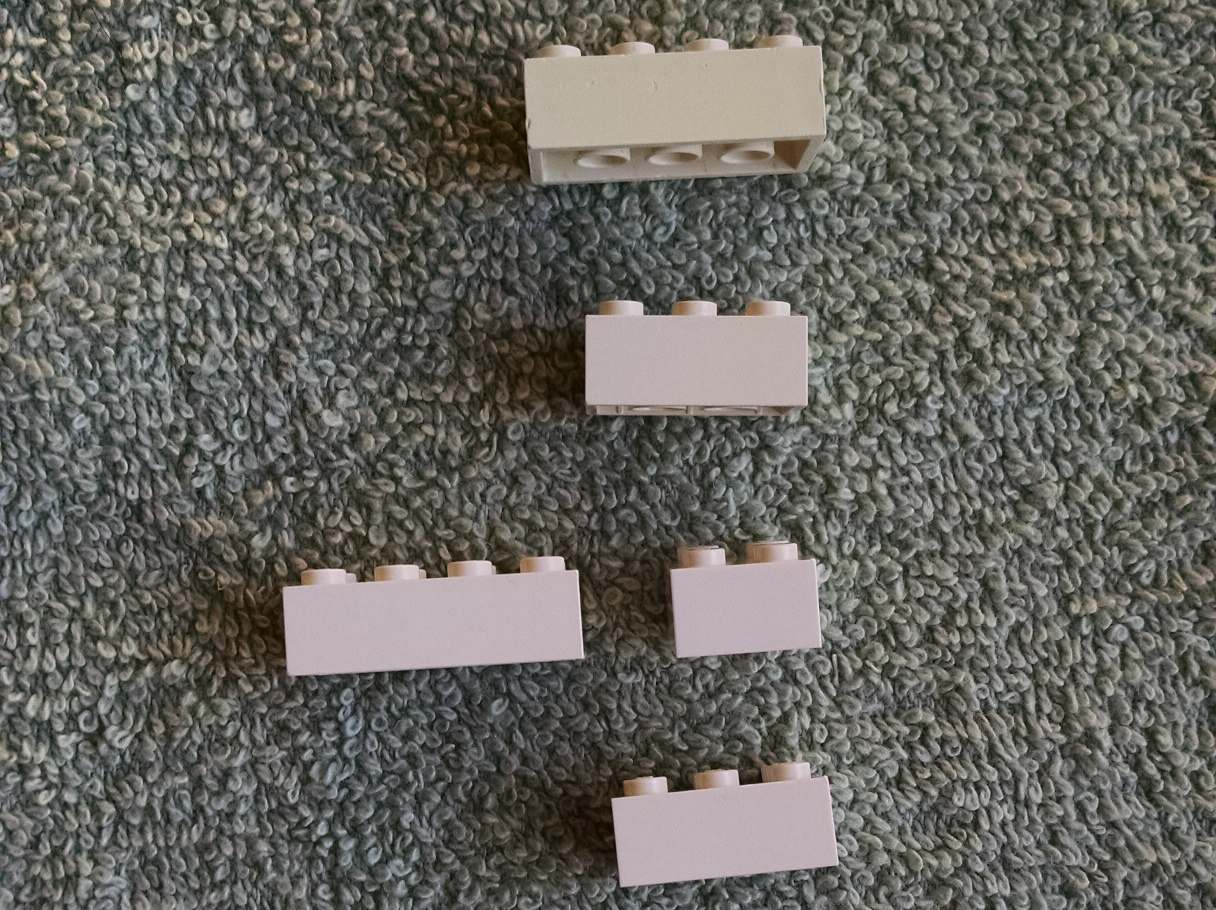 A few of my parts had stickers and a few were printed. There was no noticeable degradation of either. Others have suggested non-white LEGO bricks may lose some color if they soak too long. In subsequent tests, I have confirmed that blue bricks do become less saturated (they faded) after soaking.