Trade Route Oasis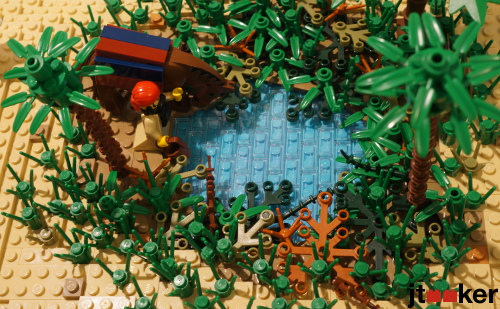 Merchants set up camp on a dune near an oasis on their trade route across the desert.
I created this MOC for the Middle Eastern Setting category of the Summer Joust 2019 competition.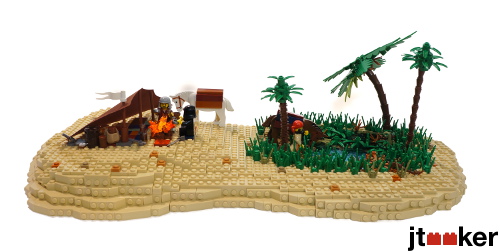 Making the MOC
Below are some progress pictures as I created this MOC.
I started with a layer of light teal plates with clear tiles for the water. I overlaid dark tan plates to create the shore. I intended for the water to be fairly large, but by the time I was done with the MOC, it was not quite as big as I wanted.
I decided to go with a rough edge, rather than a boarder. To give weight, I decided on an irregular SNOT base, like the tutorial on Brickbuilt.
I planned for the merchants to camp on a dune near (and above) the oasis. Because of the hight difference, I wanted the radius of the camp's dune to be a bit larger than that of the oasis.
I slowly built up the dark and regular tan around the oasis. I wanted to convey traffic to the oasis on the dune side, so I have the dark tan go up a bit higher on the left side.
The trees and foliage for heavily influenced (or downright copied) from LittleJohn's Desert Oasis MOC.
I continued to work up the dune until it was complete.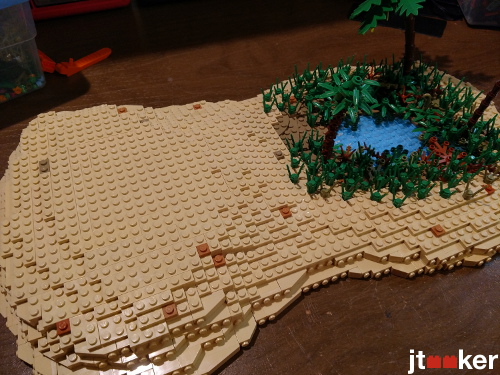 I then added the camp tent and minifigure merchants. The tent is made from a sail from 79008: Pirate Ship Ambush. I used a flashlight on the campfire to create the night scene.