Micropolis Nebraska State Capitol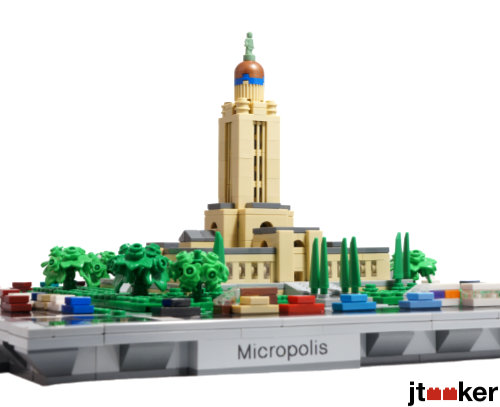 I'd been meaning to build a Micropolis Scale Nebraska State Capitol and finally got around to it for LOLUG's February competition, which was to design a module for the Micropolis micro city standard.
The biggest challenge was to get the odd-stud-wide building on the even-studs wide module. The building sits on a slight hill, so most of odd-length area is simply sitting on jumpers and tiles. But the areas where the walkways (or drive ways) meet the sidewalk were tricky. For those areas, I used either upside down 1x2 plates with slide (32028) or a 1x1 brick and tile on a headlight brick (4070); both can be seen in the image above.
The streets around the capitol are always full of parked cars and it was fun to place them at an angle on the south side and parallel on the other sides. Busy 'K' street can be seen on the north side.
Getting the Lincoln Monument on the west side was especially important to me, but finding a way to represent a statue at such a small scale took a bit of time. When looking through pieces, I came across a Harry Potter wand and found an excellent way to bury most of it and expose just a bit of the handle while also forming the wall behind the statue.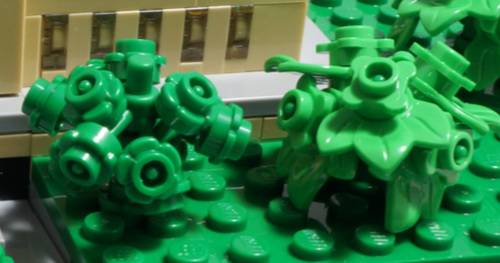 The trees are made from two 6-stem plants (19119), one placed upside down on the other. Then 1x1 green flowers were placed on green leaves and attached to each of the 12 stems. Another green flower connects the base of the stem to the ground. I'm pretty sure I saw this technique, but cannot find the source.