Frozen North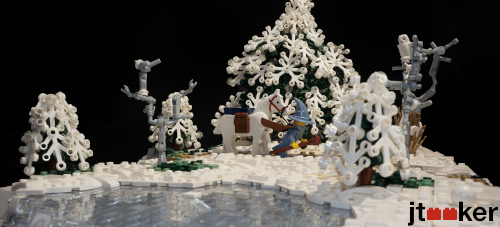 After spending the better part of the season up north in Mitgardia, Rhalyf heads south looking forward to warmer Kaliphlinian temperatures. The beauty of the frozen lake and snow covered trees unnoticed as the cold wind whirls past.
This MOC is my entry into the Frozen North category of the Summer Joust 2020 competition.
Short, Snow Covered Tree Instructions
The trees are based off Katie Walker's Design as shown in this Brickbuilt Tutorial. To get the dark green pine look, I put 'micro tree' inside the white woven limb elements.